About our Parking Lot Lighting Services
Property managers place a top priority on the safety and security of all guests and employees that enter the premises throughout the day. These professionals go to great lengths to provide the best experience for all individuals. When it comes to the parking lot, many experts fail to capitalize on the advantages of proper industrial lighting. Colorado Lighting is here to serve as your trusted lighting company in Denver, providing unbeatable energy solutions, sign installations, recycling services, and more. Your establishment can benefit from our professional services and quality commercial lighting fixtures.
The challenges of 24/7 illumination for your parking lot can add up. Long-term operating costs, maintenance demands, and maintaining sufficient levels of light are all challenges that our lighting contractors take on with pride. Our Denver lighting company will minimize shadows, improve safety, and maximize your investment in the process. Parking lot lighting is no easy task, and our commercial outdoor lighting team is here to provide numerous benefits.
MAXIMIZE EFFICIENCY
Sustainability is the "avoidance of depleting natural resources to help maintain homeostasis with the local environment." Our commercial lighting experts provide Denver businesses and beyond with the most efficient outdoor lighting services in the industry. CLI will work to develop the best plan for your unique demands, delivering efficient services that can cut your costs and maintenance demands.
OPTIMIZE COSTS
One of the biggest factors in your property management process is your budget. Our lighting and electrical contractors will inspect your property and work with you to develop a very cost-effective plan. Your property can benefit greatly from our exterior lighting services, as our team strives to use energy as efficiently as possible. This improved efficiency can result in lower lighting costs for your facility. Being sustainable means your building will require less power from the grid, resulting in financial advantages both now and throughout the lifetime of your structure.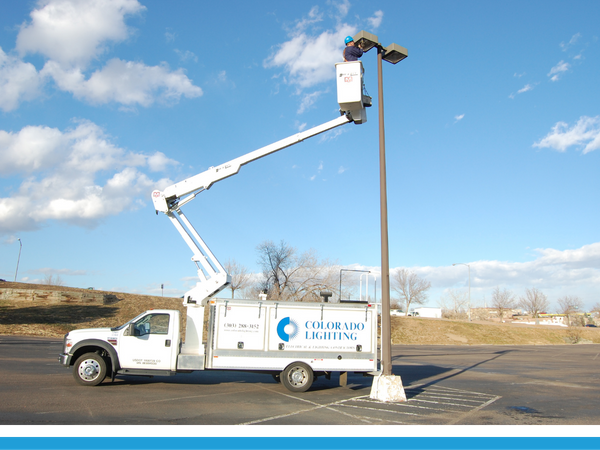 IMPROVE SAFETY
Guest safety should always be a top priority for your facility, and exterior lighting is an excellent avenue for ensuring safe levels of illumination. CLI will work with you to create a comprehensive lighting plan that covers all avenues of traffic. In darkness, pedestrians may trip over unseen hazards and fall. Likewise, a dimly lit parking lot can also result in collisions, as drivers may be unable to see hidden dangers when reversing or exiting.
IMPROVE SECURITY
When installed correctly, parking lot lighting serves as a strong deterrent to any would-be thieves. Concealment is a big factor in property crimes, making it ideal for businesses across Colorado to invest in secure outdoor lighting. Property managers with dim parking lots will tell you about the importance of lighting for security cameras as well.
ENHANCE AESTHETICS
Outdoor lighting can also provide a range of aesthetic benefits for your Colorado business. Now is the time to highlight unique features on your property, creating depth and drama to enhance the curb appeal of your business. From small spotlights for landscaping to the complex system along Pena Blvd toward DIA, outdoor lights are ideal for creating beautiful outcomes for many businesses.
Colorado Lighting is here to serve as your trusted source for parking lot lighting since 1977. Call us now or fill out the form below to learn more!
SAVE MONEY AND ENERGY
At CLI, we are always looking for ways to help our clients. If you're looking for ways to increase your bottom line, we might be able to help. Whether you're in need of lighting or electrical maintenance, an energy use audit or electrical signage, use our form here and we'll contact you shortly. We look forward to serving you!