ENVIRONMENTAL LEADERSHIP THROUGH ENERGY SUSTAINABILITY
Capabilities Statement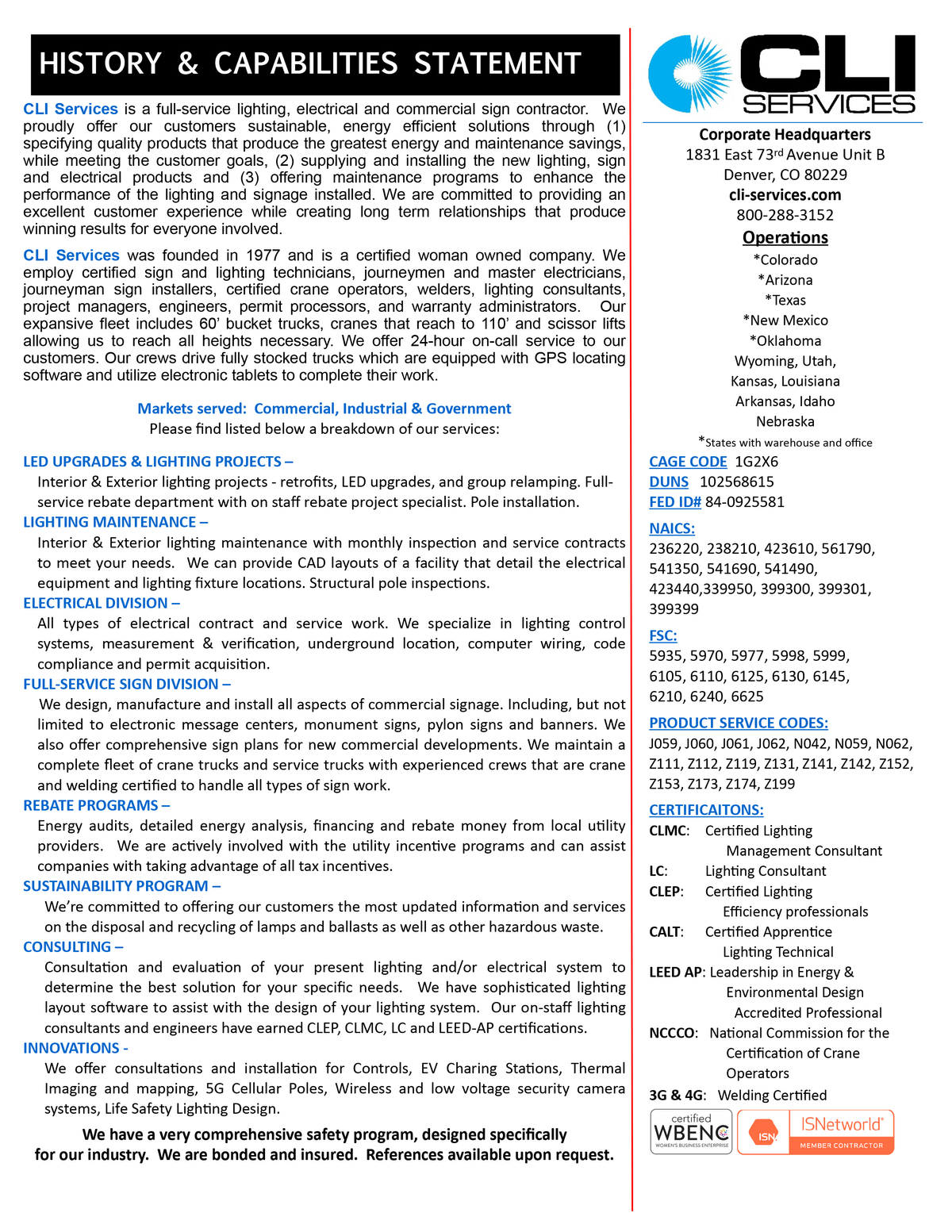 CLI Services is a full-service lighting, electrical and commercial sign contractor. We proudly offer our customers sustainable, energy efficient solutions through (1) specifying quality products that produce the greatest energy and maintenance savings, while meeting the customer goals, (2) supplying and installing the new lighting, sign and electrical products and (3) offering maintenance programs to enhance the performance of the lighting and signage installed. We are committed to providing an excellent customer experience while creating long term relationships that produce winning results for everyone involved.
CLI Services was founded in 1977 and is a certified woman owned company. We employee certified sign and lighting technicians, journeymen and master electricians, journeyman sign installers, certified crane operators, welders, lighting consultants, project managers, engineers, permit processors, and warranty administrators. Our expansive fleet includes 60' bucket trucks, cranes that reach to 110' and scissor lifts allowing us to reach all heights necessary. We offer 24-hour on-call service to our customers. Our crews drive fully stocked trucks which are equipped with GPS locating software and utilize electronic tablets to complete their work.
Markets served: Commercial, Industrial & Government
Please find listed below a breakdown of our services:
LED UPGRADES & LIGHTING PROJECTS –
Interior & Exterior lighting projects – retrofits, LED upgrades, and group relamping. Full-service rebate department with on staff rebate project specialist. Pole installation.
LIGHTING MAINTENANCE –
Interior & Exterior lighting maintenance with monthly inspection and service contracts to meet your needs. We can provide CAD layouts of a facility that detail the electrical equipment and lighting fixture locations. Structural pole inspections.
ELECTRICAL DIVISION –
All types of electrical contract and service work. We specialize in lighting control systems, measurement & verification, underground location, computer wiring, code compliance and permit acquisition.
FULL SERVICE SIGN DIVSION –
We design, manufacture and install all aspects of commercial signage. Including, but not limited to electronic message centers, monument signs, pylon signs and banners. We also offer comprehensive sign plans for new commercial developments. We maintain a complete fleet of crane trucks and service vehicles with experienced crews that are crane and welding certified to handle all types of sign work.
REBATE PROGRAMS –
Energy audits, detailed energy analysis, financing and rebate money from local utility providers. We are actively involved with the utility incentive programs and can assist companies with taking advantage of all tax incentives.
SUSTAINABILITY PROGRAM –
We're committed to offering our customers the most updated information and services on the disposal and recycling of lamps and ballasts as well as other hazardous waste.
CONSULTING –
Consultation and evaluation of your present lighting and/or electrical system to determine the best solution for your specific needs. We have sophisticated lighting layout software to assist with the design of your lighting system. Our on-staff lighting consultants and engineers have earned CLEP, CLMC, LC and LEED-AP certifications.
INNOVATIONS –
We offer consultations and installation for Controls, EV Charing Stations, Thermal Imaging and mapping, 5G Cellular Poles, Wireless and low voltage security camera systems, Life Safety Lighting Design.
We have a very comprehensive safety program, designed specifically for our industry. We are bonded and insured. References available upon request.
Corporate Headquarters
1831 East 73rd Avenue Unit B
Denver, CO 80229
cli-services.com
888-288-3152
Operations
*Colorado, Arizona, Texas, New Mexico, Oklahoma *Corporate Headquarters
CAGE CODE 1G2X6
DUNS 102568615
FED ID# 84-0925581
NAICS:
236220, 238210, 423610, 561790, 541350, 541690, 541490, 423440,339950, 399300, 399301, 399399
FSC:
5935, 5970, 5977, 5998, 5999,
6105, 6110, 6125, 6130, 6145,
6210, 6240, 6625
PRODUCT SERVICE CODES:
J059, J060, J061, J062, N042, N059, N062, Z111, Z112, Z119, Z131, Z141, Z142, Z152, Z153, Z173, Z174, Z199
CERTIFICAITONS:
CLMC: Certified Lighting Management Consultant
LC: Lighting Consultant
CLEP: Certified Lighting Efficiency Professionals
CALT: Certified Apprentice Lighting Technical
LEED AP: Leadership in Energy & Environmental Design Accredited Professional
NCCCO: National Commission for the Certification of Crane Operators
3G & 4G: Welding Certified
WBENC: WBE1700041
WOSB: WOSB170322
SAVE MONEY AND ENERGY
At CLI, we are always looking for ways to help our clients. If you're looking for ways to increase your bottom line, we might be able to help. Whether you're in need of lighting or electrical maintenance, an energy use audit or electrical signage, use our form here and we'll contact you shortly. We look forward to serving you!